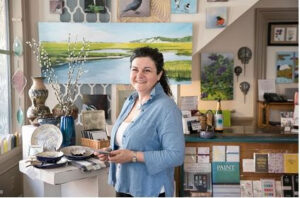 Anthi Frangiadis, owner of The Drawing Room, is celebrating Women's History Month by donating 5% of every purchase you and other supporters of the Women's Fund SouthCoast make during the whole month of March.
The Drawing Room features a beautifully curated collection of one-of-a-kind gifts, the majority by women artists. Many of those artists are spotlighted in a specially-curated Women's Fund Collection here. You can also see their work in person at 36 N. Water Street in the historic district of downtown New Bedford. If ordering online, please use code EQUITY when purchasing to identify yourself as a Fund supporter and to receive complimentary shipping. Curbside pickup and local delivery are also available. If you decide to drop by in person, just make it known to Anthi and her staff that you're a Fund supporter.
 SPECIAL ONE-DAY SHOPPING EXPERIENCE: On Monday, March 8, to honor International Women's Day, Anthi is opening The Drawing Room exclusively to supporters of the Women's Fund SouthCoast from 11am-8pm, which means you and your friends can view her treasures up close and personal while advancing the status of women and girls in the area. By appointment only. Call 508-992-3494 or email info@anthif.com. Maximum size of your group is four people.